Clitheroe County Furniture is a well established company with an innovative outlook.
We are based in Duck Street in Clitheroe, Lancashire. Clitheroe is a picturesque small market town nestling in the Ribble Valley. It has a famous Norman Castle, which stands high on its Limestone Knoll, which bears the battle scars from an attack by Oliver Cromwell's forces. We can be found next to Tescos Supermarket on Duck Street.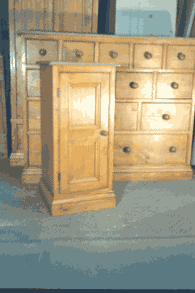 We trade all around the United Kingdom and our Christening Stools are sent all over the world.
In 2005 we were named as one of Britain's Top 10 Antiques Shops in the annual "Period Living and Traditional Homes" Magazine's Best of British Awards. This was an award we were very proud to receive. 

Editor of Period Living and Traditional Homes, Sharon Parsons, said - "The thing is, I love this country. I know that we all have a moan about everything from Politics to Public Transport, but I think there are many wonderful aspects to be celebrated that supersede all that"